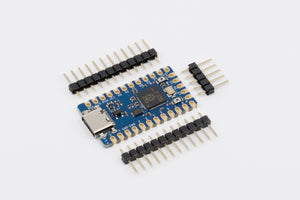 The Elite-C2 is a versatile and powerful USB-C replacement board designed to enhance the functionality of Pro Micro-based keyboards. Powered by the Raspberry Pi RP2040 microcontroller, this board offers improved performance, increased memory, and support for native USB-C connectivity, making it a perfect upgrade for Pro Micro-based keyboards.
With its compact size and durable build quality, the Elite-C2 RP2040 is designed to fit seamlessly into your keyboard build, offering a simple yet powerful replacement option for your Pro Micro. It also features an on-board reset button and DFU button for easy firmware updates, and a slew of other features that make it an excellent choice for DIY keyboard builders.
Whether you're a seasoned keyboard enthusiast or just getting started, the Elite-C2 RP2040 is the perfect choice for upgrading your Pro Micro-based keyboard. So why wait? Order your Elite-C2 RP2040 today and take your keyboard to the next level!