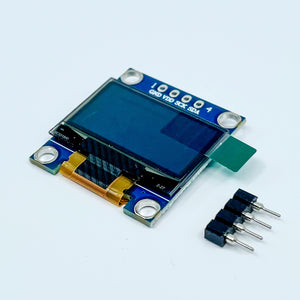 These 128X64 OLED screens are compatible with Draculad PCBs. 
Each OLED screen comes with a 4 pin socket. The socket height sets the OLED screen slightly above a Mill-Max socketed pro micro.
The headers that are packaged with the OLED screens from the factory are not compatible with the 4 pin sockets that are provided by Little Keyboards. Please use the provided diode legs to socket the screens. The factory headers are not designed to fit in the holes  
The text color of the OLED display is white.